Eurobase is pleased to announce that Himalayan Re has gone live with Synergy2, its best-of-breed reinsurance platform. Maintaining its 100% success rate for implementations, Eurobase has delivered an integrated, complete, end-to-end reinsurance administration platform, solidifying its depth and scale of success. Having met Himalayan Re's critical functional requirements with Synergy2's vast capabilities, the 'go live' of this project has been delivered under high expectations. Himalayan Re's adoption of Synergy2 has delivered tangible results that include improved efficiency by optimisation of business processes; reduced manual intervention allowing its employees to focus on higher value tasks; greater adaptability to react quickly to changes in the market and improved ability to monitor performance and demonstrate accountability, all of which contribute to delivering a real impact to its business.
With more than 30 years of experience and expertise of the (re)insurance industry, Eurobase has demonstrated the importance of building strategic partnerships. Synergy2 is a release-based platform which enables reinsurers to achieve sustainable, strategic growth in the digital age, further solidifying the future-proof partnership Eurobase provides.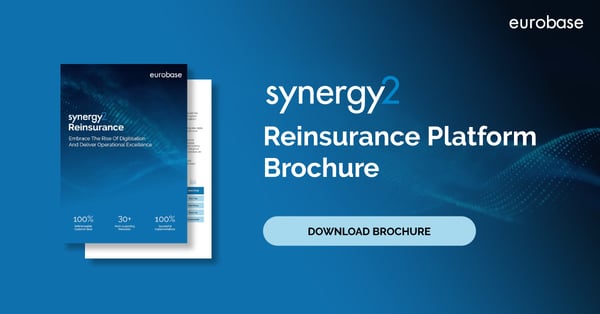 Commenting on the partnership with Eurobase, Chandrasekaran Ramamurthy, CEO of Himalayan Re said,
"Himalayan Re chose Eurobase Synergy2 for its user friendly, yet comprehensive Reinsurance Business Administration and flexible business intelligence reports for optimisation of business objectives. Workflow automation has helped streamline underwriting and claims handling. Himalayan Re has gained end-to-end processing capabilities within a short span of one year of its commencement of business operations."
Joe Locke, CEO of Eurobase, adds
"We are so pleased to be partnering with Himalayan Re. The success of this project is down to the teams within both companies working extremely collaboratively throughout. We look forward to supporting Himalayan Re in achieving its business objectives for many years to come."
REINSURANCE PLATFORM
Download Synergy2 Brochure
About Himalayan Re
Himalayan Re is the first private sector reinsurance company established in the Republic of Nepal. The company offers Reinsurance support to Life and General Insurance Companies in Nepal and overseas. Its vision is to emerge as the reinsurer of choice in the Afro-Asian markets/countries where it proposes to operate.
About Eurobase
Eurobase is a leading international software and services provider of (re)insurance solutions. Established in 1988 and with customers in over 25 countries, Eurobase has gained extensive knowledge of the global (re)insurance markets. With a personal approach, Eurobase ensures it delivers the support and flexibility its customers need and the service they expect. With long-standing customer relationships, Eurobase has a committed approach to doing business and to product investment, delivering ongoing value above and beyond initial engagements.
For further information, please contact:
Joanne West
Group Marketing Manager
Eurobase International Group
T: +44 (0)2076 484 799
E: Joanne.west@eurobase.com