After a two-phased deployment approach incorporating data migration from multiple sources, Farm Mutual Re is enjoying significant process automation.
Eurobase is delighted to announce that Farm Mutual Re has successfully deployed Synergy2 to support its end-to-end reinsurance operations. Eurobase's wealth of experience and commitment to significant, ongoing product investment were key factors in Farm Mutual Re's vendor selection. Due to the necessity of migrating data from multiple sources and applications, Farm Mutual Re identified the importance of building a strategic partnership with a solution provider who had particular and extensive reinsurance expertise and with whom they could build a long-term strategic relationship.
Synergy2 is now Farm Mutual Re's core reinsurance application, providing a processing platform across their operations and delivering data across underwriting and claims. The investment in Synergy2 enhances operational efficiencies across the business through process automation.
Synergy2 is a leading released-based platform for reinsurance companies, enabling strategic growth in the digital age.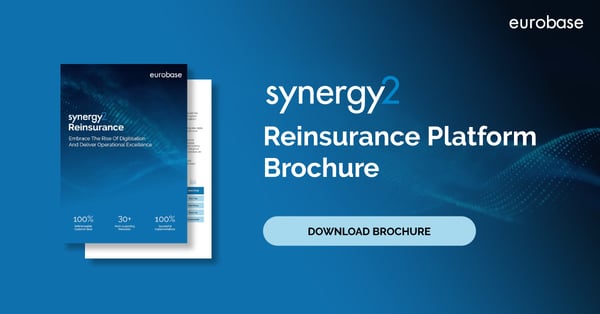 Commenting on the partnership with Eurobase, Jean-Pierre Gagnon, President and CEO of Farm Mutual Re, said:
"Modernization of our system technology is key to Farm Mutual Re's future strategic success. In partnering with Eurobase and implementing Synergy2, we have gained significant operational efficiencies and enhanced our decision-making process. We are confident that this investment will provide a strong return in the long term and we look forward to the positive impact it will have on our members and partners."
Joe Locke, CEO of Eurobase Insurance Solutions, adds
"We are delighted to welcome Farm Mutual Re into our growing community of reinsurers. The team has really enjoyed the collaboration with Farm Mutual Re and we are all looking forward to a long-term and strategic partnership that will facilitate the growth of their reinsurance business."
REINSURANCE PLATFORM
Download Synergy2 Brochure
About Farm Mutual Re
Farm Mutual Reinsurance Plan was established in 1959 by the Ontario Mutuals to provide efficient and effective reinsurance support to the Mutual system.
Farm Mutual Re supports, community-based mutual insurers and continues to provide personal service while offering the same security as a multi-national organization.
Farm Mutual Re is grounded in our financial strength as well as the long-term relationships we cultivate with our partners who include reinsurers in Canada, the United States and Europe. We see tremendous value in forging deep-rooted relationships to provide stability and capacity. Everything we do is based on a long-term view.
About Eurobase
Eurobase is a leading international software and services provider of (re)insurance solutions. Established in 1988 and with customers in over 25 countries, Eurobase has gained extensive knowledge of the global (re)insurance markets. With a personal approach, Eurobase ensures it delivers the support and flexibility its customers need and the service they expect. With long-standing customer relationships, Eurobase has a committed approach to doing business and to product investment, delivering ongoing value above and beyond initial engagements.
For further information, please contact:
Joanne West
Group Marketing Manager
Eurobase International Group
T: +44 (0)2076 484 799
E: Joanne.west@eurobase.com