Synergy2, has been chosen by Strategic Underwriters International (SUI), based in the U.S, to streamline its operations and manage its multi-layer contracts. As a Managing General Underwriter (MGU), SUI play a critical role in the underwriting and management of both Commercial Liabilities and Workers Compensation for the reinsurance market.
Synergy2 will drive SUI's sophisticated capacity provider processing model and provide improved data currency and risk modelling. In addition to delivering significant operational efficiencies, the platform will also provide SUI with real-time management information and empower decision-making.
Bill Reichert, President of Strategic Underwriters International said
"We were really impressed with the depth and breadth of functionality within Synergy2. It will bring real tangible benefits to our business and streamline our operations. The team at Eurobase has listened closely to our requirements and demonstrated genuine subject matter expertise. The ability of the Eurobase team to tailor the solution to maximise the value to our business has been beyond expectation and we couldn't be more pleased with the solution."
Joe Locke, CEO of Eurobase stated
"SUI have a clear vision for growth and recognise the importance of underpinning this through streamlined, efficient operational processing and real time, meaningful data insight. We look forward to building a strong and lasting relationship with SUI."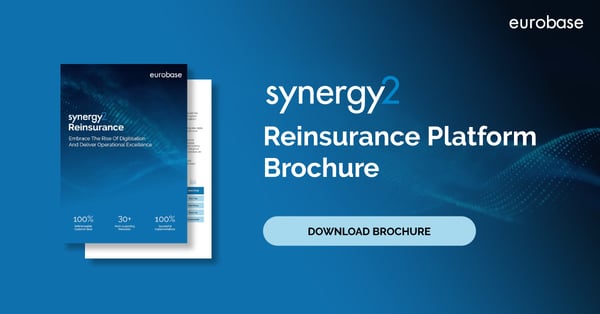 REINSURANCE PLATFORM
Download Synergy2 Brochure
About Strategic Underwriters International (SUI)
About Strategic Underwriters International (SUI): SUI aspires to be the renowned leader in the reinsurance business for consistently producing creative, innovative, and profitable underwriting and unparalleled service for its partners. SUI was developed and managed by recognized, secure leaders in the industry and applies the highest standards of integrity, value, professionalism, and performance to the services it provides to its clients.
About Eurobase
Eurobase is a leading international software and services provider of (re)insurance solutions. Established in 1988 and with customers in over 25 countries, Eurobase has gained extensive knowledge of the global (re)insurance markets. With a personal approach, Eurobase ensures it delivers the support and flexibility its customers need and the service they expect. With long-standing customer relationships, Eurobase has a committed approach to doing business and to product investment, delivering ongoing value above and beyond initial engagements.
For further information, please contact:
Joanne West
Group Marketing Manager
Eurobase International Group
T: +44 (0)2076 484 799
E: Joanne.west@eurobase.com