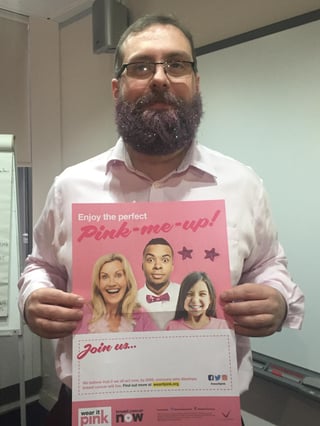 On Friday 21st October the team at Eurobase International group joined in the Wear it Pink day to raise money for the charity Breast Cancer Now. We say we take charity seriously but given what happened today we clearly like a bit of fun too.
At the start of the day we had a goal to reach by lunch time, in order for a valued member of the Banking Team, Matt Townsend, to pink glitter his beard. We well and truly surpassed that mark, here he is in all his glory…
The team brought in homemade treats to sell and took part in a guess the baby competition and a raffle. With all this going on across the two offices, Chelmsford and London, we managed to raise £400 in total.