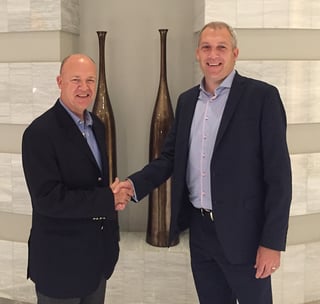 Eurobase International Group is pleased to announce a new partnership with Refpoint Business Consultants. Based in Dubai, Refpoint is a business consultancy firm led by Ken Maw which provides seamless consultancy services from initiation through to delivery in the Middle East. This partnership confirms Eurobase's continuing focus on business in the region, building on its already high levels of exposure, trust and industry expertise.
As a trusted provider of treasury management & e-Commerce solutions and complete insurance & reinsurance solutions to many of the world's leading banks and financial institutions, the partnership is set to bring direct representation for Eurobase in the Middle East. With an already strong reputation and client base in the region, it is anticipated that this partnership - the first of its kind for Refpoint - will bring to the fore how these things, coupled with expert knowledge and market leading products can transform the market.
Joe Locke, Chief Executive of Eurobase Banking and Insurance Solutions, adds: "We are looking forward to working closely with Refpoint and are confident this relationship will strengthen our relationships and increase our opportunities across the GCC. Our portfolio of products offer solutions across the financial services sector and we have significant value to offer the region."
We caught up with Ken Maw, Chairman at Refpoint Business Consultants, to get his insight into the partnership. "We are very excited about partnering with Eurobase in our first support agreement, and will be demonstrating the value a partnership such as this can offer the region. We look forward to working closely with Eurobase and applying our regional expertise and relationships to assist Eurobase in achieving further growth".