Eurobase International Group is a software and services vendor to financial institutions. With a Business management system that is well established and fully embedded within the organisation, Eurobase has achieved certification to the internationally recognised standards ISO 27001:2013 and ISO 9001:2015, confirming it as one of the leaders in its field.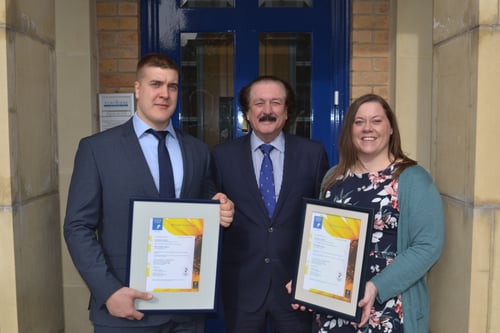 This independent assessment was conducted by the British Assessment Bureau, a leading Certification Body, and demonstrates Eurobases's commitment to customer service and quality in delivery and keeping its data, staff and premises secure.
ISO 27001 is the internationally recognised Information Security Management Standard that proves an organisation's commitment to the security of its customer, employee and shareholder's information. With ISO 27001:2013 now in place, Eurobase is able to minimise risks to potential data security breaches and reduce errors and costs, while demonstrating credibility and trust.
ISO 9001 was first introduced in 1987 and requires an organisation to demonstrate that its business activity is in order and that it has a Quality Management System in place to ensure consistency and improvement. This should then lead to high levels of performance and customer satisfaction. Now certified with ISO 9001:2015, Eurobase has showed its commitment to ongoing improvement and will continue to be assessed to ensure progress is being maintained, as it has been since first receiving the ISO 9001 certification in 1995.
Eurobase has shown that it has both a good product and that it provides a good service to its customers, ensuring reliability and controlled processes, which in turn means lower costs for its customers.
Joe Locke, CEO of Eurobase Insurance and Banking solutions said, "We're particularly pleased to have achieved certification for both ISO 270001:2013 and an upgrade to ISO 9001:2015 standards as they underline the commitment to our customers and our focus on quality. This recognition demonstrates that we are able provide a quality solution from quotation to delivery".
The benefits of the ISO 27001:2013 certification include:
Proven data security
Operational excellence
Reduced risk of potential data security breaches
Reduced errors and costs
Increased business profitability
Employee engagement
The benefits of the ISO 9001:2015 certification include:
Streamlined procedures
Consistency to service delivery
Reduced cost and rework
Improved management practices
Enhanced status
Competitive advantage
Reduced insurance premiums
EUROBASE INTERNATIONAL GROUP

Eurobase International Group is a software and service provider in over 25 countries. It has been providing enterprise wide solutions for (re)insurance companies, banks and other financial institutions as well as recruitment services for more than 25 years.

THE BRITISH ASSESSMENT BUREAU

The British Assessment Bureau's reputation was established in 1969 as a specialist in certification scheme management. In 1997, the Secretary of State for Trade and Industry approved the use of the word 'British' in their title, in recognition of their pre-eminent status.

Today, they certify organisations to recognised standards, including ISO 9001 (quality management), ISO 14001 (environmental management), ISO 27001 (information security management) and OHSAS 18001 (occupational health and safety management). They also design and manage bespoke assessment schemes. Such schemes are based on the establishment of standards, which can be developed to be recognised company-wide, industry-wide, nationally, or internationally.