With the Olympics just around the corner, Eurobase International Group is sponsoring a slightly different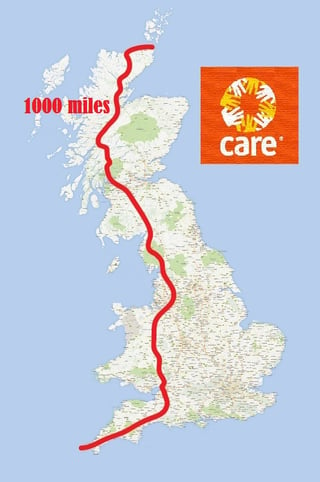 sporting achievement. One of its employees is preparing to cycle from Land's End to John O'Groats for charity – and he's not even taking the most direct route.
Matt Wilson, Eurobase Marketing Assistant, will be starting his epic journey on the 5th August at Lands End, before heading through Dartmoor, the Wye Valley, the Lake District, the Forest of Bowland through The Borders and on up into the Highlands and John O'Groats. This trip of a lifetime across arguably some of the most beautiful and punishing landscape the UK has to offer will take in 3 countries over 14 days and covers over 1000 miles.
The charity at the heart of this mammoth effort is CARE International – one of the world's leading global poverty-fighting organisations, supporting hundreds of development and humanitarian aid projects in more than 70 poor and developing countries around the world.
Matt explains why CARE International is the charity he has chosen to benefit from this: "For me, it's important to try and help people who find themselves in desperate situations with no real opportunity, and that's what CARE International have been doing for the past 70 years. I wanted to do something to support their efforts which also satisfies my own sense of adventure and achievement."
Eurobase HR Director, Pippa Drew, said "Eurobase is proud to sponsor Matt on his trip. It shows enormous drive and determination to commit to, prepare for and achieve a goal like this in aid of a very worthwhile cause. We wish him a safe journey and look forward to celebrating his achievements with him when he returns."
You can catch up on Matt's training and his progress updates on the ride itself on his Facebook page www.facebook.com/LEJOGAug2016 and if you'd like to support him, you can do so at www.justgiving.com/matthew-wilson16