Complementary products and services deliver additional customer value and faster digital enablement
As the digital transformation continues to reshape the (re)insurance industry, the need for comprehensive and scalable technological solutions has never been more critical. Eurobase and Jean Edwards Consulting have always been driven to innovate and deliver the best solutions and services to their customers. Recently this "customer first" approach has led both organisations to recognise the complementary elements of their respective products and services.
Both organisations are widely recognised for providing exceptional service levels whilst delivering operational efficiencies and supporting digital transformations through the implementation of their respective products. Over the last 12 months, the companies have identified how they can provide their existing clients, and the market, with further value through a joined-up approach. This collaboration has already resulted in the companies working jointly on some current opportunities, and both are looking forward to making further announcements over the coming months.

Joe Locke, CEO of Eurobase said
"With more than 30 years of experience and expertise of the (re)insurance industry, we understand the importance of building strategic relationships. Over recent years we have grown to recognise that Eurobase and JEC share a similar vision and values and that there is a natural cohesion between our products and services that can bring tangible value add to both sets of customers and the market as a whole."
Edward Nnadi, CEO of Jean Edwards Consulting stated:
"We are excited about the possibilities and opportunities that lie ahead. The partnership between Eurobase and Jean Edwards Consulting signifies our unwavering dedication to our clients in the (re)insurance industry. Together, we are poised to make significant strides in driving meaningful industry advancements. By joining forces, we will provide exceptional solutions, deliver operational efficiencies, and support digital transformations, ultimately benefiting our customers and the market."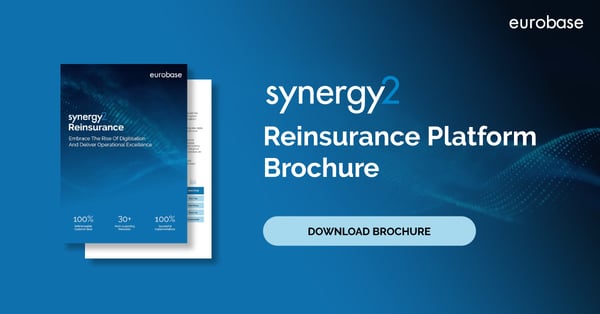 REINSURANCE PLATFORM
Download Synergy2 Brochure
About Jean Edwards
At Jean Edwards Consulting, we are passionate about driving and embracing change. Since our establishment in 2005, we have been delivering top-notch data and change management services to the (re)insurance industry and public sector. Our team comprises dedicated and highly motivated experts who bring a wealth of experience and skills to the table. Collaboratively, we strive to provide our clients with the finest services and solutions, empowering them to tackle the challenges of today's rapidly evolving world with confidence. We go beyond simply meeting client expectations; we lead by example, delivering optimal, flexible, and sustainable solutions that enable our clients to thrive. With a focus on excellence and innovation, we are committed to creating lasting value and being a trusted partner on their journey towards success.

About Eurobase
Eurobase is a leading international software and services provider of (re)insurance solutions. Established in 1988 and with customers in over 25 countries, Eurobase has gained extensive knowledge of the global (re)insurance markets. Leading the (re)insurance solution is Synergy2, which covers the full end-to-end lifecycle for underwriting, claims, retrocession, and accounting. With a personal approach, Eurobase ensures it delivers the support and flexibility its customers need and the service they expect. With long-standing customer relationships, Eurobase has a committed approach to doing business and to product investment, delivering ongoing value above and beyond initial engagements.

For further information, please contact:
Joanne West
Group Marketing Manager

Eurobase International Group
Joanne.west@eurobase.com
+44 (0)2076 484 799