What is the EMIR REFIT Regulation 2024?
The European Market Infrastructure Regulation (EMIR) is introducing wholesale changes to the reporting of derivatives transactions that require action for all parties involved, from financial institutions, software providers and trade repositories, to improve the current process to remain compliant under the EMIR regulation.
The regulator, the European Securities and Markets Authority (ESMA), has now published the technical standards on reporting, data quality, data access and registration of Trade Repositories under EMIR REFIT. The main drivers of EMIR REFIT are to:
Reduce Systemic Risk.

Increase transparency of the OTC derivative markets.


Key Points:
A significant change to reporting fields (129 to 203).

Move to report via XML ISO20022.

Inter Trade Repository reconciliation.

Introduction of Unique Product Identifiers (UPI).

Change in the format of Unique Trade Identifiers (UTIs).

6-month timeline to transfer existing deal stock to new reporting requirements.

5 End-of-day reports from Trade Repositories.



What is Impacted?
The scope of EMIR REFIT includes changes to Client Submissions, Reconciliations, Processes and Data Access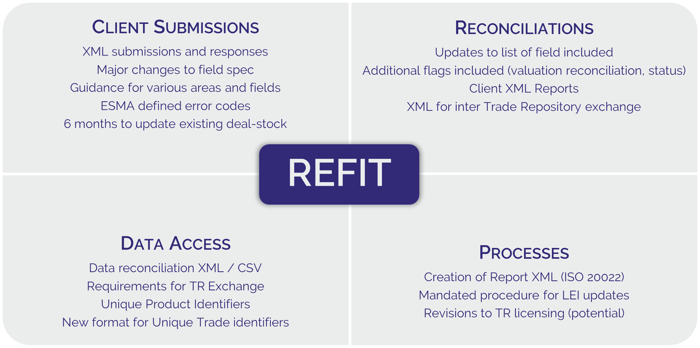 How is Our Reporting Data Affected?
There are significant changes to the data, currently required to report successfully under EMIR. Changes include new fields, field updates and the removal of fields that are no longer fit for purpose.

What is the Timeline?
Planning for EMIR REFIT should begin as soon as possible in order to meet the April 2024 deadline.

How can Eurobase help me?
We are currently conducting an impact assessment to identify the changes required to support EMIR REFIT. Given the scale of the changes, this exercise is significant. Once complete, we will prepare to meet your reporting deadlines. To this aim, we are moving ahead with the following activities.
Analyse Impact with Eurobase

June/July 2023


- GAP assessment
- Workshops
- Baseline

Project Planning

July 2023

Eurobase testing and deployment

August 2023

Execute Implementation

September 2023
What Are the Next Steps?
To ensure you are ready for the April 2024 go-live of EMIR REFIT, contact us to discuss the best options for you. Please feel free to call or email us using the details below or by using the form provided.
Book a 30-minute Consultation

Finally... What happens if I do nothing
If you take no action, you are at risk of being non-compliant. There are fines for non-compliance, in the EU there is a maximum fine is €5 million or 10% of the total annual turnover of the entity, whichever is higher. In the UK the FCA can impose fines of up to £1 million or 10% of the total annual turnover of the entity, whichever is higher.