Whether or not you agree with the business paradigm that you must 'grow or die', many of us face at some time the question of how we must expand.
Indeed, below there is an extract from PwC demonstrating the range of growth activities considered in a year. Rather than thinking this is simply a choice of one or the other, perhaps it's time to consider how to healthily grow in the (re)insurance market while avoiding costly mistakes.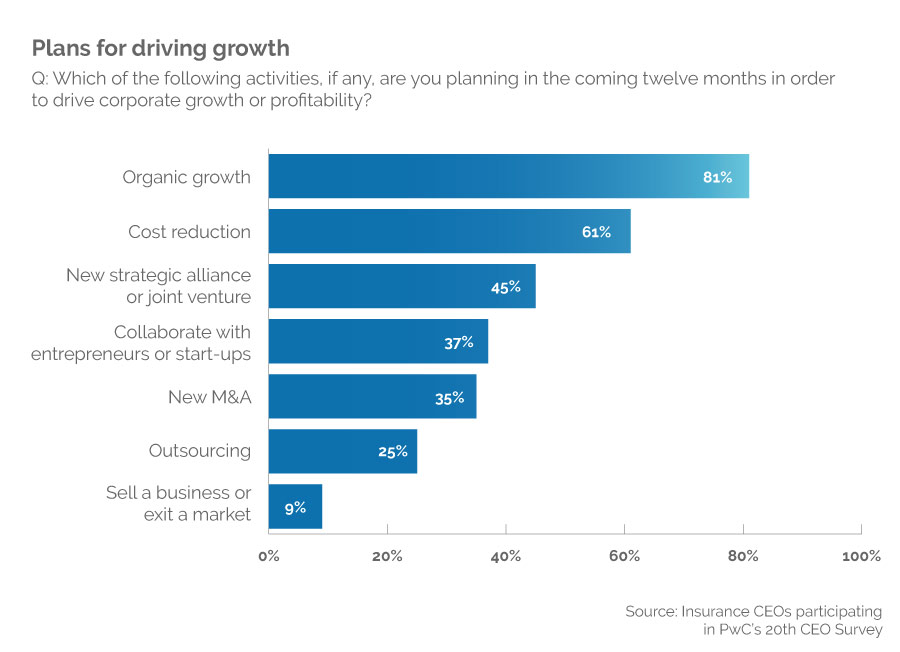 Firstly, the purpose for growth should be well understood. With this in mind, some common priorities are laid out below.
Growth for Efficiency
When growing to leverage economies of scale, companies must be cautious not to over-complicate the new business model. So, alongside the rationalisation of staff and systems, the following opportunities should be considered:
Automation – Automating tasks can provide a two-fold improvement to efficiency by both reducing the headcount needed to complete a business process, and freeing skilled resources to complete higher-value activities. Examples include; automating approvals processes, removing re-keying, and automating the entry of data using AI and Machine Learning.
Cloud – When rationalising systems, the opportunities for Cloud hosting/migration can also provide improvements through the reduction of headcount required to support your systems, and in some circumstances reducing the overall costs. However, there is a second opportunity in cloud hosting where the IT infrastructure performance can scale automatically and seamlessly – reducing downtime and allowing flexibility in unusually busy (or quiet) times.
Growth for Distribution
Growth to allow distribution of new products or into new geographies presents very different challenges to the previous category. While above we are focussed on scale, this growth needs speed and agility in both your processes and software. At the time of writing, several sources see growth in the emerging markets, particularly in Asia (Standard & Poors Global Reinsurance Highlights 2020).
Flexibility – New products may require new data to be captured, new processes, and new people. A good first step is always to consider the processes which can be reused from your existing business, and which must be new? Support from knowledgeable staff and an experienced technology partner are key. Finally, a highly configurable system is important to allow changes to be made without engaging in costly development.
International focus - An often-overlooked issue when considering growth is the alternative tax and regulation when entering a new country or territory. To manage the risks, research a thorough understanding of the costs (including taxation, regulatory compliance, and other acquisition costs) and whether this can be catered for under existing processes and systems.

Growth for Diversification
When growing into new lines, there are additional considerations as well as the distribution advice above. To clarify, this section is when a business is growing into a wholly new part of the market, and where new concepts and knowledgeable staff will be required to make this a success.
Knowledge – Not only will any previous experience be invaluable within your organisation, but it will also be critical in your partners. Understanding the optimal technology solution, the experience of regulatory requirements and the insight from your technology partner's previous customers engagements will avoid the pitfalls of entering a new market segment and ensure the correct processes are introduced.
Depth – With the advantage of experience, and the introduction of well-designed processes, the full depth of functionality from your technology partner can be utilised. Without expert advice, the required changes and calculations can become problem areas. Some technology platforms offer excellent capability in their niche but will struggle if your company requirements evolve. Seek partners who can integrate with new technologies easily and reduce costs through configuration rather than customisation.
With the guide above, we have outlined a framework to understand the factors involved in growth. Additionally, the route by which this growth can be achieved can vary and should also influence the approach taken. These routes include acquisition, organic growth, or the development of a new business unit. These options can be supported by your project and technology partner and will affect decisions such as migration of data to a common platform, reporting, and integration choices.
However, to conclude this, there will always be outstanding questions and uncertainty with growth. Underpinning all these must be a commitment to the growth objective from both you and your partners. How will you deal with changes and if/when your (reasonable) assumptions are challenged? Overall, growth is a powerful motivator but can also be painful – while you can prepare for this, remember that growth often fails. For growth to be successful, selecting the correct partner will be critical to achieve your objectives.
If you would like to speak to Eurobase on this topic, or any other aspect of your (re)insurance needs, please contact us at info@eurobase.com.