I remember vividly watching a BBC TV programme when I was a boy, it was a production regarding the challenge of cycling the entire length of Great Britain. Stretching over 1000 miles from Land's End in Cornwall to the remote town of John O'Groats on the windy northern coast of the Scottish Highlands. It caught my enthusiasm instantly, a physical challenge which seemed way beyond my ability and the opportunity to thoroughly explore the land I call home. Despite the intervening years, the aspiration of one day completing it has not only stayed with me, but grown.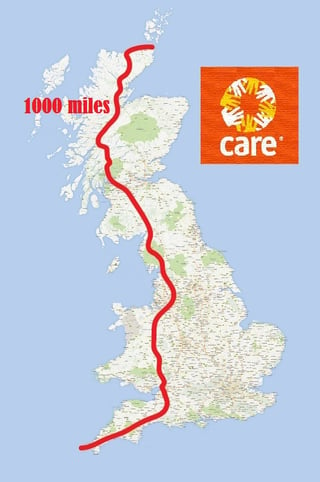 As a complete cycling novice, my only cycling related accomplishment is probably learning to ride without stabilisers. I certainly have no multi-day touring to reflect upon and the prospect of cycling the length of Great Britain seemed completely out of my reach, something only for the hardened experienced cyclist. It was probably this insurmountable feeling that really motivated me to attempt it. So 2 years ago I decided to buy my first proper bike and begin the necessary training. Unfortunately, after only a few months a knee injury meant it ended in disappointment and the challenge seemed further away than ever.


Last year I decided that I would give it one last proper attempt. Learning from the mistakes I made before, visiting a pyshio, specialised bike fittings and 10 months of carefully planned training. I now stand at the very edge of Lands End, looking out to the Atlantic and getting ready to FINALLY set off, on which I hope is a successful journey to John O'Groats. And trust me, I can't wait!!


Apart from succeeding at a physical challenge, the fundraising element really makes this journey and the large amount of effort worthwhile. It would be great to get as many donations as possible. No matter what the contribution, large or small, it's all going to a good cause and it will make a difference to the lives of others. I would also genuinely appreciate the support, which will help as I'm struggling to get through all these miles.

I would like to take this moment to thank my employer Eurobase International, who have been very supportive and generous. Also I would like to thank anybody else that has donated or thinking about donating, thank you for your generosity.


I will be posting daily updates on my event page www.facebook.com/lejogaug2016


Also donations can be made directly via www.justgiving.com/Matthew-wilson16
Thank you