Elf on the Shelf is a simple concept that has proved to be immensely popular. It is based on a book of the same name which sets the scene for the concept. The story describes how Santa's "scout elves" hide in people's homes to watch over events. Once everyone goes to bed, the scout elf flies back to the North Pole to report to Santa the activities, good and bad, that have taken place throughout the day. Before the family wakes up each morning, the scout elf flies back from the North Pole and hides, and typically is portrayed to be quite mischievous!
The Elf on the Shelf book explains that scout elves get their magic by being named. So, if the Ghost of Christmas Future revealed one called 'Regulatory Elf' inside a firm this festive season, I wonder what Regulatory Elf would be looking for to report back each night?
LIBOR Cessation
The FCA published on the 28th of November a consultation and statement of the proposed new powers under the Financial Services Bill (2020) to deal with legacy contracts that have no genuine alternative to LIBOR. On the same day, ICE Benchmark Administration (IBA) announced it will also hold a consultation on its intention to cease the publication LIBOR settings after 31st December 2021 with USD LIBOR excluded. This creates uncertainty as to how LIBOR will be set post the end of next year. Given the uncertainty it incentivises firms to move away from LIBOR before this date. The FCA and Bank of England are actively pushing firms to cease using LIBOR and certainly post Q3 2020 loans should no longer be referencing LIBOR as a benchmark rate. Your Regulatory Elf would certainly be reporting back on your preparedness for the cessation of LIBOR!
Easing of Best Execution RTS 27 & 28 Reporting
The European Securities and Markets Authority (ESMA) confirmed in April that best execution RTS 27 and RTS 28 reporting requirements would be eased as firms adapted to the impact of the coronavirus pandemic. A review will also be undertaken in 2021 to decide how best execution reporting should be adapted or if they should be removed completely. However, this does not mean that you can ignore best execution as it strongly features elsewhere in various regulatory jurisdictions. Looking at a number of global warnings and the Dear CEO letters in the UK, you can be sure that Regulatory Elf will be very interested in how you are treating your customers!
Increased Focus on Digital Resilience
Elsewhere there will be an increased focus on digital operational resilience from regulators in response to the pandemic and in particular how firms are adapting their processes to be able to fulfil regulatory requirements. Many firms will be asking Santa for new tech as they look to how they can replace legacy technology with systems and platforms that can cater for the new reality. Certainly Regulatory Elf will be looking to report on how the planning is going!
GDPR Festive Anecdotes
I was reading up on GDPR recently, given recent renewed focus, and came across some very humorous festive anecdotes from previous years such as this one from the Information Commissioners Office – "Others have been pondering how we at the ICO manage to process personal data relating to our office 'Secret Santa' while some have asked if naughty children can utilise their 'Right to be Forgotten' to make sure they still get a present." An ICO Elf would certainly be a scary dream but my favourite from the GDPR world was this one –
"He's making a list,  
"He's checking it twice,
"He's gonna find out who's naughty or nice,  
"Santa Claus is in contravention of Article 4 of the General Data Protection Regulation (EU) 2016/679." Hohohoho
On that note I would like to thank all our readers for your interactions and comments and please feel free to reach out to me at david.woolcock@eurobase.com on any of the topics we have covered this year. I look forward to returning in January and until then may I wish you and yours a Merry Christmas and a Happy New Year, in spite of the lockdowns and restrictions, and let us hope 2021 brings good health and some reasons to be cheerful.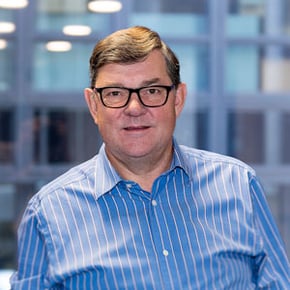 David Woolcock
David Woolcock is an independent consultant and Director, Business Consulting at Eurobase. In addition, David is Chair of the Committee for Professionalism at ACI – The Financial Markets Association as well as Vice-Chairing the ACI FX Committee. He is also a member of the Market Practitioners Group for the Bank of International Settlement's FXWG that wrote the FX Global Code.