''The greatest technology in the world hasn't replaced the ultimate relationship building tool between a customer and a business; the human touch''
Shep Hyken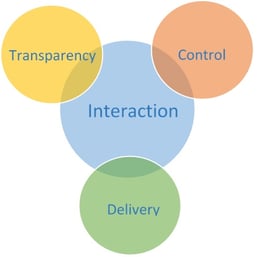 Many companies include 'great customer service' on their list of key ingredients that are essential for success. Great customer service builds strong and lasting relationships, demonstrates a greater understanding of modern customer needs, adds a personal human touch and infuses positivity throughout a business and with customers. Critical for attracting repeat customers and building a positive reputation, great customer service helps to create respected brand awareness.

Interestingly, many organisations invest in technology in a bid to improve customer relationships. Embarking on a crusade to find the perfect Customer Relationship Management (CRM) software solution can mean that an organisation loses sight of the true foundation of a customer-business relationship, which comes down to a great user experience. A great experience can have a significantly positive impact on a customer, possibly resulting in bringing in other customers you'd never have thought of.

One of Gartner's predictions for 2016 is that CRM will "go back to the future" by evolving to re-focus on the customer and what they want, as opposed to what organisations want from their customers. Gartner summarises that "the original concept of customer relationship management in 1982 was as a customer-centric business strategy. Since the late 1990s, CRM has meant a technology project with ironically little benefit to the customer; but that has begun to change."
What is a great experience? Well, according to Collins, an experience is 'direct personal participation or observation…'. Whether or not the experience is great comes down to a combination of emotions based on the events and interactions – essentially a feeling. We are all human after all. So what makes customers feel good? We believe that interaction plays a key part. With transparency, control and delivery, interaction with customers can deliver a great experience and make your customers feel good. Here's how:
Interaction
Customers and their needs are changing. Organisations need to open the channels of communication to engage on as many levels as possible. What was once acceptable and expected (post, fax and landline) is no longer the first choice and in a fast-paced technological age, an immediate response is expected.
With almost accidental customer interactions, such as the usage and emergence of live chat – the traditional phone call seems to be a second choice for a growing customer base. It's only recently that Eurobase had a customer message the support team through live chat just to say "wow, live chat – this is great".
Having options, even if not used by all, demonstrates a modern focus in a technologically aware and demanding world.
Transparency
By engaging with customers we agree to terms, some of which are unspoken and expected (such as mutual respect, honesty, integrity) and some are contractually agreed (resolution targets, delivery timeframes etc.). Be accountable to your customers and let them see what you're doing for them: keep them updated, be honest when things do not work out as expected and answer the questions customers are asking before they ask them.
As a customer it's important to be kept up to date, often delighting customers is only a few seconds and a click or a call away.
Control
We don't live in a 9 to 5 world. Customer expectation doesn't stop when your doors lock for the day or when you've finished your shift. Enabling customers to control their experience is a growing trend. Whether waiting for a delivery, raising an issue with a product/service, raising a complaint or requesting information, customers don't want to be told when and where to do this. Accessing important information and engaging with service or solution providers is something that people expect to be able to do wherever and whenever they are, and increasingly they are not happy to wait.
Delivery
Delivering against targets is great and should be accomplished by all organisations, but why stop there? Over-delivering isn't necessarily about 'doing things quicker'. It can be, but more importantly it's about leaving customers with that 'wow' feeling. Communicate after the event, ensure your customer remains happy and supported – don't 'drop and run'. Be remembered by doing something different – add that personal touch.
In a fast paced modern world of evolving technology, processes and systems we should remember that the business value is in positive customer management and experiences – the customer is your reason for getting this right and should be the centre of your world.
If you'd like to see what Eurobase has done to improve our customers' experience, watch our video here to see how improved customer interaction and processes, coupled with the right tools has enabled this.